St Helen's Centre
- the 2011 extension to St Helen's
After many years of consideration and fundraising, a plan was finally adopted for an extension to the church to incorporate a good-sized meeting room, kitchen, toilets and storage space. A copy of the plan drawn up in 2006 is shown below, which received all the necessary permissions and went to tender in 2009.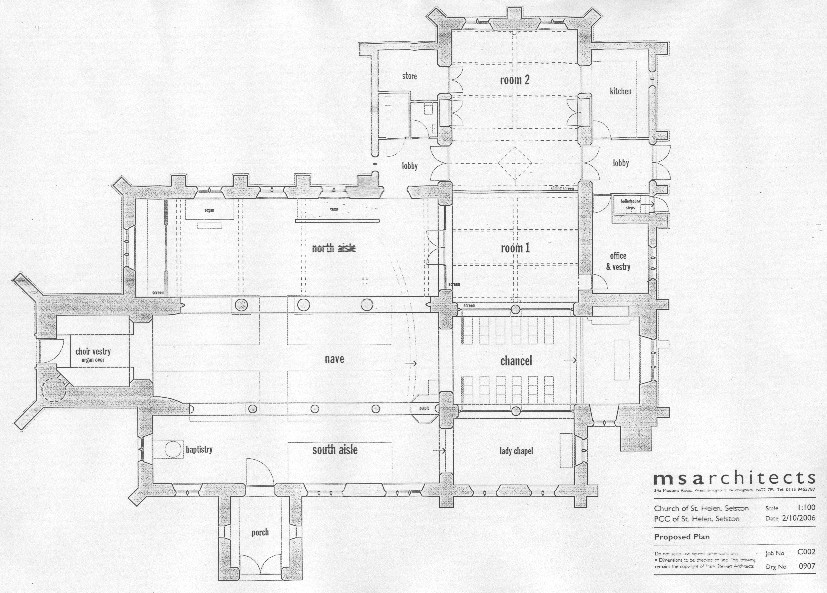 Note that the extension involved moving part of the north wall of the original building outwards to accomodate 'Room 2'. The first phase of the work was however to move the organ from its location to the north of the chancel ('Room 1') to a newly constructed organ loft under the tower at the rear of the nave. This both cleared the space for the extension and put the organ in a much better position acoustically. The rebuilt organ includes an electrically coupled portable console, currently located between the stone pillars separating the nave from the north aisle.
Photographs showing the extension in various stages of being built between mid 2010 and the spring of 2011 follow. The Centre was formally dedicated and opened by Bishop Paul Butler, Bishop of Southwell and Nottingham, at the Tower Service on Sunday 3rd July 2011.
(Click on a thumbnail to enlarge it, and then click 'back' (A) to return to this page.)